The Economic Meltdown's Minority Roots
By "minority," I don't mean racial minority, I mean the extreme minority of states suffering heavy housing foreclosure rates and sub-prime mortgage losses. When you see the map below and how concentrated the problem with these loans really is, you'll ask yourself two questions:
WHY AM I PAYING FOR THIS IF IT'S NOWHERE NEAR ME?
WHY ISN'T ANYONE IN THE MAINSTREAM POINTING THIS OUT SO PEOPLE KNOW WHERE THE PROBLEM REALLY IS???
The answers to those questions are obvious: you're paying because the PLAN was always to make you pay--the loans were made so that the system would fail and we would all get screwed over by the bankers and elitists who plan to own everything--including your house, which you've been paying for without problems.
Because what's going to happen is the economy is going to get WORSE as they keep throwing more and more money at it--killing what little value the dollar has left. This will mean that those with current mortgages who are paying them just fine will find it harder and harder to keep up with their payments as their dollars buy less and less of the other necessities (like food, heat, gasoline). That's assuming you still have an income when all this melts.
Ya, so you can blame California and Florida for taking the dive so the rest of us can get drug down into the murky waters of the Banker Elites with them.
Image source: RealtyTrac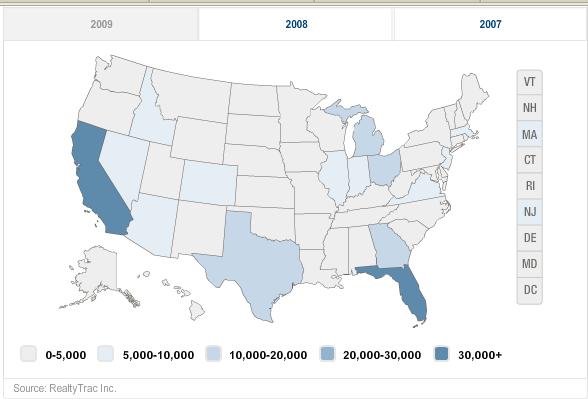 -----
Got comments?
Email me, dammit!
Permanent link for this article which can be used on any website: